As the Vice President of Marketing at Filigree Consulting, Sandra had the pleasure of working on client projects that were recognized by:
The Corporate Executive Board (CEB)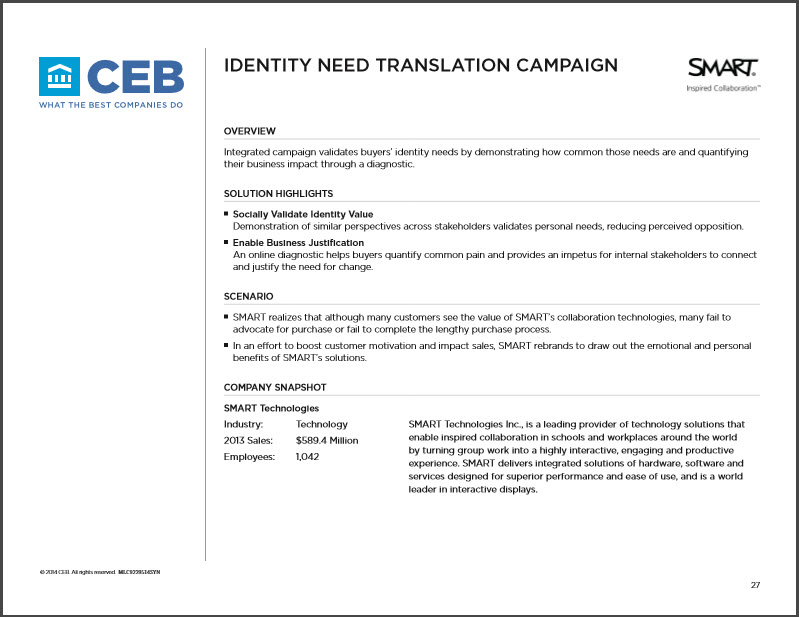 In 2014 the Corporate Executive board published a case study on Filigree Consulting's client SMART Technologies' re-branding campaign. SMART realized that although many customers see the value of SMART's collaboration technologies, many fail to advocate for purchase or fail to complete the lengthy purchase process. In an effort to boost customer motivation and impact sales, SMART re-brands to draw out the emotional and personal benefits of SMART's solutions. As part of that campaign Filigree Consulting conducted a global research study and developed a diagnostic that was central to the campaign. The web development partner was AgencyZed.
---
InfoComm 2014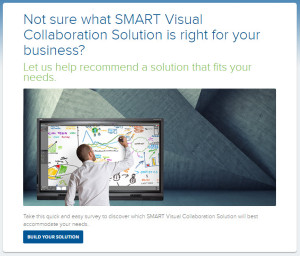 With our partners at AgencyZed, Filigree Consulting built a configuration app for SMART Technologies to help their customers and channel build the collaboration solution that fits their needs. What is really innovative about the application is that there is an interface that allows retail partners to get a unique instance of the application for their website.
For a demo visit the application
Also featured at "Lets Do Video"
---
During Sandra's tenure as Director of Brand Strategy and Marketing Communications, TELUS Business Solutions was recognized by:
The Corporate Executive Board (CEB)
They developed two case studies which were included in the CEB curriculum and best practice materials which are available globally to their membership.
One case study documented how research-based marketing was used to create some corporate intellectual property which was then leveraged as an on-line knowledge sharing tool to drive sales and customer engagement.
Another case study detailed how TELUS used permission-based marketing to deliver an interactive integrated demand management approach into
their sales organization.
---
The Information Technology Sales and Marketing Association (ITSMA)  
They awarded TELUS Business Solutions the Gold Award: Social media marketing in 2010.
In late 2008, faced with the challenge of connecting with its busy business customers, Sandra initiated and gained executive support for TELUS Business Solutions to embarked on a Social Media strategy. In 2009, an innovative social media strategy designed to engage customers and encourage dialogue as launched. Businesses can come together, exchange ideas, and gather expert advice at www.telustalksbusiness.com.
---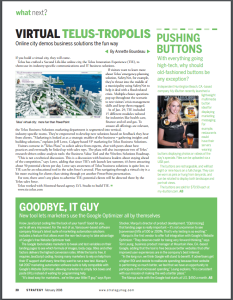 Strategy Magazine 
Journalist Annette Bourdeau featured an on-line world (TELUS Innovation Experience – TIE) as an example of a new innovative marketing approach. Sandra and her team developed the TIE as a marketing and sales tool which showcased the art of the possible for TELUS Business Solutions. It was built in collaboration with LVL Studios and AgencyZed.
---
Forrester Research 
Case Study: Telus B2B Marketing Demonstrates The Value Of Lead-To-Revenue Management.
In the evolving economy, the Telus Communications B2B marketing organization found that it was more important than ever to crystallize the value of marketing's contribution to the bottom line. The management team evaluated key processes and practices, realigned the department, and implemented new processes, practices, and technologies to meet business goals and demonstrate the contribution of marketing. These efforts have resulted in an eightfold increase in the lead-to-close rate.
---
Creativity International Awards  – 2008
These awards are one of the longest running international advertising and graphic design competitions for print, the web, and advertising design. The 2008 campaign website, called Noordinaryphone.com, was the only Canadian entrant to win an award in this category. The website was developed as part of the integrated marketing campaign to reinforce the unique MiKE brand and promote the solution.
---
A few kudos as a result of Sandra's leadership of the AT&T Canada brand sunset and Allstream corporate identity launch:
"Sandra's leadership was essential to achieving the financial, customer and employee objectives. Her skills and inspiration across the transition phases and complex work environment involving vendors, consultants, executives and employees ensured we established and successfully transitioned to our new brand." Angie Specic, Director of Marketing Communications, Allstream
"Over the last 36 months, we have really been working hard to combine and bring those four separate business groups together into one operating unit. What we've really done is we've taken the opportunity of rebranding our company to really consolidate all of these separate functional groups into one enterprise solutions company. " John McLennan, Vice Chairman and Chief Executive Officer, Allstream Source: The Wall Street Transcript: in-depth interviews with investors
"For the nine months ended December 31, 2003. Independent research and feedback from customers indicate that progress has already been made with regard to the brand attributes of being innovative, agile and collaborative partners." Allstream Annual Report