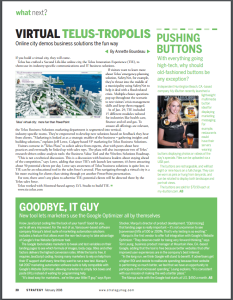 IT business solutions are very complex. Customers and prospects don't know what they don't know. We often were being asked for various corporate power point presentations to be updated but for every update that was delivered there was always another request or what we delivered just didn't fit the bill. The sales organization was trying to show the art of the possible within a power point presentation and frankly that was not the best sales tool. So we embarked on developing a virtual world that could show businesses from almost any industry how IT business solutions could help their business achieve greater value.
Go for a tour to yourself – TELUS Innovation Experience
Strategy Magazine featured it as an innovative example of Marketing in their February 2008 issue.